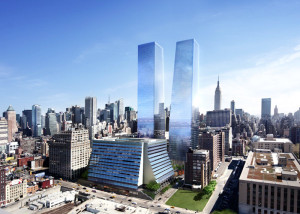 Manhattan's landscape is set for somewhat of a construction transformation.  With plans for 20 new buildings (17 of which are high-rises), according to journalist Verena Dobnik, this will be one of New York's "most ambitious private real estate ventures since Rockefeller Center" was erected.
Completion of the building is set for 2024, and, along with the simultaneous project – the Manhattan West complex – will comprise over 22 million sq. ft., featuring around 6,000 residential units.  This is being achieved through "a feat of engineering," building enormous concrete platforms to enable buildings to soar above and around railroad tracks and rail yards.  In addition, this will not have any impact on the approximately 70,000 individuals who daily use Amtrak and New Jersey Transit trains.
The first 52-story tower is due to open in 2015.  Manhattan West will be erected between Ninth and Tenth, featuring three towers (including stores, garages, a public plaza and a hotel).