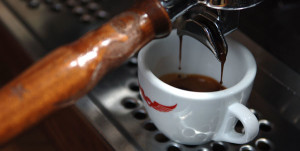 Manhattanville Coffee recently opened on 142nd Street and Edgecombe Avenue, Sugar Hill.  Right by its namesake neighborhood – but not quite there – co-owners Rivka Sontag and Jack Gold claim that they "agonized over the name" for a while.  Gold explains why they eventually went with it though:  "'Manhattan' tells the story of sophistication and 'ville' tells the story of a small hometown.  The name could work in any city."
Anyway the café is doing well, perhaps because of its location – Edgecombe – lacking such eateries.  According to Gold, "the neighborhood was waiting for this."  It was a project that the couple – who have been working in commercial design business together for a while – fell in love with during a redesign.  According to Gold, "it's a chill intersection where the view is beautiful."  Because of how they felt about the place, they figured this would be a perfect place in which to work.
They worked hard on the building, uncovering a column they exposed and cleaned, having a local artist etch a gold leafing window sign, exposing the inside original brick walls.
For those who frequent the café, there are two comfortable leather couches in the front, marble countertops and more.  Intelligentsia Coffee is served with small pastries. Summer popbar ice pops and winter soup will be seasonal.  The goal behind the café is to make a place for "neighbors [to] get to know one another."  According to one satisfied customer, this has been a long time coming, as he said he has "been waiting for a café like this for 11 years."  Another customer said "it beats having another deli."
Clearly Manhattanville – is suited more to this area, than, let's say, Manhattanville!