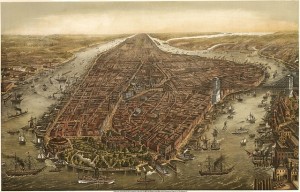 The map of Manhattan that is. This eight-and-a-half map that dates back to 1811, drafted by John Randel Jr. to organize the future city.
Today it's very washed out and one cannot see identify so well the "erratic character of the rural hilly island." Between 1818 and 1820, Randel and his wife Matilda created a new map – the total antithesis of the original planned one of 1811. It is full of color and vibrancy, animated and easy to see the fascinating landscape.
This map – the Randel farm map – is today one of NYC's "most beautiful and important – and one of the world's most unusual," measuring 50 feet long and 11 feet wide, it comprises 92 individual maps at a scale of 100 feet to one inch.
But most New Yorkers are not familiar with this piece of work at all. The maps are located at the office of the Manhattan Borough President. Occasionally they are looked at by an historian or surveyor. They have been digitized in recent times so that they can be looked at online but they've never been officially shown to the public.
….Until last week. On 17 October, the Open House New York showcased the maps in mylar covers, set on black-clothed tables and arrayed contiguously across a brightly sun-lit mezzanine at 1 Center Street, enabling New Yorkers to view them between 10am and 4pm.
This enabled New Yorkers to take a journey in a time travel back to the 19th century and see how their block used to be, topped with a marsh or the Hudson River waters….much has gone, but much remains.