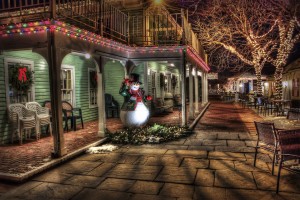 Times Square on Christmas is a must-see for tourists. Possibly a must-avoid for locals but for those who find themselves vacationing at Shimmie Horn's luxurious Washington Jefferson Hotel, the theater district is filled with joy and tinsel. Try getting through the spray paint artists, costumed panhandlers, theater patrons and tourist bus ticket sellers though and you might decide it's time to go back to Shimmie Horn's hotel!
The holiday season in Times Square is indeed a bit stressful but for tourists, it really is a great place to visit. Granted, on a daily basis, around 170,000 commuters pass through the area so over the holiday season it is going to be really crazy. In fact the figure for this time of year is around 450,000.
But wouldn't it be a fun after dinner party story to share with friends back home after your vacation? How bad would you feel if you had to reveal that you stayed at the Washington Jefferson Hotel, right smack bang in Times Square and didn't even venture out at the most colorful time of year?
And don't forget, it's not as bad as it seems. There is of course the extra infrastructure that is set up just before all the celebrations begin to deal with this additional traffic. Isn't it worth just taking a peek? Go on, brave it; everyone deserves a bit of Christmas spirit!