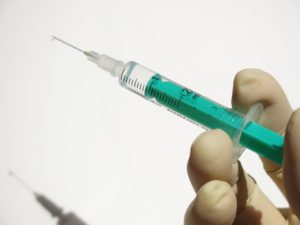 Looking for a bar with a difference in New York?  Something that you've possibly never seen before?  Well, look no further than Lower East Side's Sanatorium – a hospital-themed cocktail bar which looks a bit like "the waiting room of a debauched doctor."
Rather than the interior being made up of typical mahogany and hanging glasses, in here you will find operating-room style lamps affixed above a marble bar.  There is no 'Saloon' sign but instead, Venetian plaster covers the walls in a green scrub color.  You don't get your shots in classic shot glasses but rather syringes and the cocktails are prepped on operating-room trays.
But the music remains pretty conventional for a bar.  With D.J. Xavier Herit, you'll enjoy Euro house music and then once a week though – again with a taste of something different – there is a performance by chamber ensemble New Vintage Baroque.  Another thing that is not typical is the fact that you actually have to make an appointment to go there.  However, if the jolly bouncer is around, walk-ins are usually accepted.  So enjoy a Waiting Room shot made from tequila, cherry tomato, basil, balsamic vinegar, lime and habanero elixir, topped with a slice of ibérico ham, carved from a leg hanging over the bar and you'll want to make this place your regular.