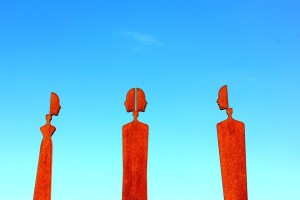 Looking for something different to do in the Tribeca neighborhood? Located in the former Telepan Local space, the Muse Paint Bar could be just the thing. For those who like art (but don't necessarily want to take a lesson in it), classes at the bar are very different to the standard art class. In fact, these classes are seen more of an entertainment. And the best part? You actually walk out with something you've created yourself.
Each class – that costs $45 – takes around two hours and all equipment is provided. There is a library of approximately 650 designs and new ones each week. One can also purchase snacks and beverages while they paint.
For kids in the area, MoMA is offering a new way of playing using the imagination; get into character of Louise Nevelson rather than Batman at its Art Lab. This is stocked with colored pencils and crayons and kids find a whole slew of different things to use in the lab each time, from toilet paper rolls to golf balls and more.
In fact, this lab sounds like it'd be good for adults too!