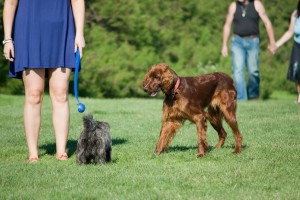 It's not always so easy to have a dog in midtown Manhattan. Indeed, cities in general are a more challenging environment in which to house a pet. But for dog lovers in the area, there may soon be a solution. Maggie Chan and Mandy Chow are two 24-year old women who are hoping to get their Indiegogo campaign to raise $75,000 to build the Dog Café – a doggie playground and café for humans to match up New Yorkers with adoptable shelter dogs.
For those who just want to hang out with a dog and not adopt it, the café provides them a service too. The two women thought the lower east side's Cat Café was pretty cool and based their idea on that. Their idea is a large indoor space in the area that will offer pet-sitting services, as well as give dogs the opportunity for playdates. New York shelters could then send in dogs that café-goers might be interested in adopting, getting to know them at the café before bringing them home. There are currently numerous abandoned dogs looking for homes in the city. As well this could help solve the city's stray dog issue, by getting these dogs adopted too.
So just because you're in Manhattan might not mean you to have to ditch your love for your canine companion.