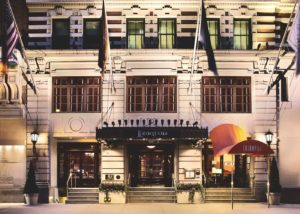 One of Shimmie Horn's hotels is Midtown Manhattan's Iroquois. This boutique hotel is not only elegant and centrally-located, it also makes comfort a top priority with each room featuring Comfy Simmons Beautyrest mattresses, comfortable work stations and Jacuzzi tubs. Talking of Beautyrest mattresses, that was one of the big sales that took place in New York on Columbus Day Weekend. For those looking for the comfort of the Iroquois at home, 1800Mattresses had a special a couple of weeks ago offering a 65 percent discount as well as a free Beautyrest air mattress for anyone making a purchase of more than $799.
In addition to its comfort, at the hotel you can enjoy dining at a true gem of a French restaurant – the exquisite Triomphe Restaurant & Lounge, as well as Midtown's best French restaurant. Or take in the classic, historical ambience as you sip a cocktail at the Lantern's Keep.
The Iroquois truly is a mark of comfort and style within the bustling New York City. And for those who want to be right in the center of it as well, Shimmie Horn's boutique hotel is the perfect location.