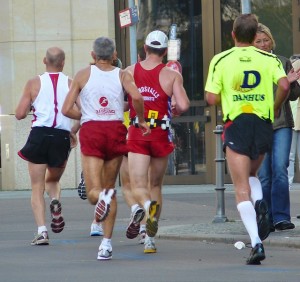 The 2015 New York City Marathon has come a long way since its humble beginnings back in 1970 where only 55 men finished the run. At that point, women weren't allowed to participate and the following year if they did, they had to start 10 minutes ahead of the men. Probably because when the NYC marathon first began it was deemed "too dangerous" by the Amateur Athletic Union for women. Today though, female participants make up 40 percent of the 50,000 runners; this figure has increased every year since 1971.
Here are some interesting facts about the race that has raised millions of dollars for various charities and gotten people training for months, over the last 45 years. In 1986, a Vietnam War veteran finished the race in 98+ hours…on his hands. Also, it seems that those from Brooklyn run the fastest, possibly because when they practice it is mainly on flat terrain. Thus Brooklynites run at an average speed of 8:14 per mile.
Out of this year's 50,000 NYC marathon participants, more than half are actually not Americans. That is split between France (making up the largest majority of non-Americans at 7 percent), Italy, the UK, Netherlands, Japan, Australia, South Africa, China, South America, Spain and Sweden. The fastest runners are around 30 years old, mainly from outside of America and on average, are running about two hours faster than everyone else.