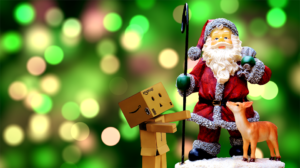 On December 11, between 4 and 5, the Tompkins Square Park Neighborhood Coalition and East Village Parks Conservancy will be hosting its (25th) annual holiday tree lighting. All residents of the East Village are invited.  In 1992, the eight foot evergreen was planted by Albert Fabozzi in memory of Glenn Barnett, his late partner and park advocate who passed away from AIDS.  Fabozz is President of the Coalition and has been an East Village resident for more than three decades.
Then there are the activities at the East Village Community School.  The Cultural Share night is a really great family event but fun for those without kids too.  Brief skits are done from all around the world and it's a great community feeling as there is a lot of parental involvement in this free public school.
Now in its 88th year, the Radio City Christmas Spectacular is really quite a staple in NYC's holiday traditions.  Tourists and locals are enjoying the Spectacular almost as much as other timeless shows like The Nutcracker. It's not fancy though; it is just a focus on the celebration of classic holiday values like peace and love.  Using a flying Santa and other cute gimmicks, this is sure to get you in the holiday spirit!
So come all, come one and celebrate Christmas in the East Village.
There is also The Radio City Christmas Spectacular celebrates its 88th year of precision dancing and high kicks this holiday season. Along with George Balanchine's The Nutcracker from the New York City Ballet, the Spectacular has become one of NYC's most hallowed holiday traditions, drawing tourists and locals alike. Unlike The Nutcracker, however, there's nothing highbrow about Radio City Music Hall's pageant of glitz. It celebrates classic holiday values—peace! Love! Consumer confidence!—by deploying a flying Santa, a massive LED screen, and the sea of legs known as the Rockettes, all kicking in fabulous unison.