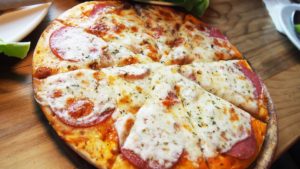 Pizza, pizza and more pizza. You can never have too much pizza.  Well that seems to be the sentiment in New York City at least.  With the recent opening of Baker's Pizza on Avenue A, there is something new happening in the world of NY pizza.  It is hoped by owner-chef Jordan Baker-Jamie Cacace that "the power of the New York-style pie [will] become a destination stop of any pizza journeyman's map."
So what actually goes in to making these pizzas different?  First, the pies are very filling with an extremely generous base and exploding with toppings. Second, there are funky toppings such as brussels sprouts, bacon and white truffle oil (the B&B) or speck, broccoli rabe, roasted red peppers and parmesan (the Speck-tacular).  It is these ingredients which set the pizza place apart from Muzzarella Pizza which is just down the block.
New York City certainly has quite a history with pizza.  According to a blog post referring to Ed Levine's book, 'Pizza – A Slice of Heaven,' "The story of pizza in America starts in New York City, on Spring Street in lower Manhattan, in 1905 when Gennaro Lombardi, a baker and pizzaiolo from Naples is granted the first license in the United States to sell pizza. Lombardi had come to America at the age of 14. He was already a baker by trade, and soon found work in a Brooklyn bakery and a grocery store on Spring Street in Manhattan. He had the idea of baking pizzas at the bakery and selling them the next morning at the grocery. It was a very good idea.  [and then it spread around America]… A year after Antonio Pero opened Totonno's in Brooklyn, another Neapolitan immigrant pizzaiolo named Frank Pepe opened Frank Pepe Pizzeria Napoletana (1925), the first pizzeria
in New Haven, CT."
And the rest, as they say, is history.