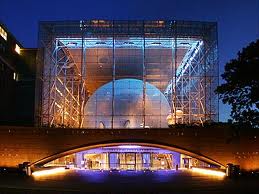 Staying at Shimmie Horn's Hotel Belleclaire? If you are looking for something truly special to do while you're there, look no farther than three avenue blocks to the east where the Hayden Planetarium beckons. Located at 79th Street and Central Park West, a visit to one of the world's most famous museums dedicated to the study of space, stars and planetary studies is well worth the while.
The Hayden Planetarium is actually part of the American Museum of Natural History; admission fees include entrance to the Rose Center for Earth and Space, and for a bit extra cost visitors are entitled to visit the AMNH, the Rose Center plus all special exhibitions, IMAX films and the spectacular Hayden Planetarium Space Show.
The featured show, which has been playing at the Hayden Planetarium since July 4th, 2009 is an all new adventure featuring "extraordinary images from telescopes on the ground and in space and stunning, never-before-seen visualizations of physics-based simulations, the dazzling new Journey to the Stars launches visitors through space and time to experience the life and death of the stars in our night sky, including our own nurturing Sun. Tour familiar stellar formations, explore new celestial mysteries, and discover the fascinating, unfolding story that connects us all to the stars. Those who come along for the journey may never see the night sky in the same way again."
So the next time you are staying at the Hotel Belleclaire at 250 West 77th Street on Broadway, walk east three blocks to Central Park West and travel to the stars.