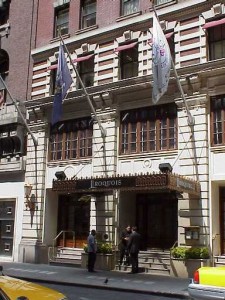 The Iroquois New York, owned by hotelier Shimmie Horn, is simply the talk of the town.  As For The Bride magazine explains, "The Iroquois New York is the talk of the town. The 114 rooms, large by New York standards, are furnished in comfortable, soft, natural tones and feature Frette linens and luxurious marble baths."
Shimmie Horn, with a family history of hotel experience, brings a return to traditional values into The Iroquois New York hotel.  The staff believes in personal attention for each guest and creates an at-home feel at this "in" spot. Every touch has been thought of at The Iroquois from the bellman's greeting to the mineral water and chocolates accompanied by Shimmie Horn and the general manager's personal notes in the room.
The Iroquois New York includes fine dining for guests at the Triomphe restaurant on the premises, named one of the best new theatre district restaurants in the Best of New York issue of New York magazine.
Originally built in 1923, The Iroquois was home to many rock stars in the 1980s. James Dean even lived at the hotel while appearing on Broadway.  In the 1990s, owner Shimmie Horn started the $14 million dollar renovations to modernize the hotel and to create the luxurious, quaint atmosphere that the hotel enjoys today. Its 114 guest rooms and 9 guest suites are decorated in the French residential style and include every luxury from Frette bathrobes and bed linens to marble flooring and brass fittings.
As part of the Triumph Hospitality brand, The Iroquois New York is privileged to be one of only three Manhattan-based hotels that belong to the Small Luxury Hotels of the World.