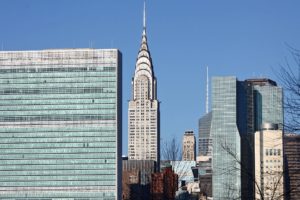 Yayaoi Kusama, a Japanese artist, has her first artwork displayed in a permanent public place in midtown Manhattan.  Located at 605 West 42nd Street, close to Shimmie Horn's Iroquois Hotel which "combines classic design and contemporary amenities to create a quintessentially New York City experience," the piece is of a bronze pumpkin that is surrounded by the 'infinity loop motor court,' at the building's entrance.
According to CEO of the Moinian Group, Sky developer (which spearheaded the redevelopment of the area), Joseph Moinian, the company is "deeply proud to present New York with its first Yayoi Kusama bronze Pumpkin for all to enjoy.  It is an honor and a privilege to have such an iconic and important work of art by one of the world's greatest living artists permanently residing in front of Sky. I hope it will become a cherished emblem of culture in the city for generations to come."
In terms of art, one of Shimmie Horn's other hotels – the Hotel Chandler – features many architectural elements reminiscent of the Beaux Arts era, designed by Jorge L. Portero.
Designed by Jorge L. Portero, the Hotel Chandler NY shows off numerous architectural elements reminiscent of the Beaux Arts era.