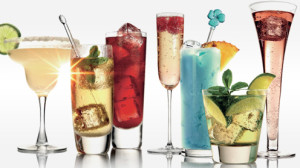 For those looking for custom-made cocktails in the heart of Manhattan, Lantern's Keep is a great spot.  With its delightful ambiance, nestled in Shimmie Horn's Iroquois Hotel, this tasteful bar brings together modern Manhattan with old fashioned traditions.  Its philosophy is to figure out what techniques were used to make classic drinks survive through the ages and replicate the method.
In addition, the bar seeks to stick with what happened in the late 19th and early 20th centuries – whereby American hotel bars provided the environment for bartenders to develop their craft and offer customers "luxurious libations" not available in standard bars.  Recalling this tradition, Lantern's Keep uses top quality ingredients to develop unique concoctions prepared in classic style.
And if one is not so knowledgeable on what cocktail to order, all they have to do is choose a spirit and let the bartender surprise them!