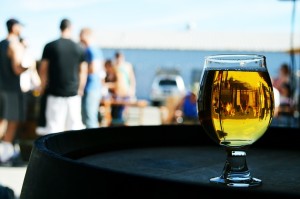 Hudson Ale Works is very nearly ready for business. Featuring a shiny three-barrel brewing system, this downtown microbrewery was launched by three individuals from Highland. Its 17 Milton Avenue location has already been home to quite a few different businesses in the past, including a cabinetry store, laundromat and machine shop. Now the 7,500 square feet industrial building is being leased to Hudson Ale Works co-owners, Neil and Adam Trapani, and Josh Zimmerman.
So the question is, what kind of beer were people drinking during yesterday's Super Bowl? Was it the kind that will be offered at Hudson Ale Works? Beer is very important at that annual sporting event; possibly as much as wings. Indeed, the beer should perfectly match the wings you choose. Different beers are good with different styles: from honey to barbecue, shrimp paste to Korean. Indeed, as Director of the Craft Beer Program for the Brewers Association, Julia Herz points out: "Sweet cuts heat. If you have a spicy sauce you're going to go for a more moderate alcohol and something with a little more residual sugar."
And for New Yorkers who would rather not go the alcoholic route, they could try one of Joe Isidori's uber-large creative milkshakes. Isidori is the chef and owner at Black Tap Craft Burgers & Beer and started making these "hella insane" shakes when his wife asked him to make a candy milkshake for her. Measuring a foot tall, these funky shakes sell for $15, three of which can be purchased at Black Tap, Manhattan.
Some of these shakes are themed (like the Red Velvet Valentine's Day, Candy Cane Christmas one), and one of them was even made special for Super Bowl 50!