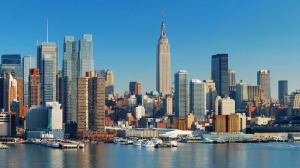 The US offers so many hot-spots and vacation destinations. New York City will always be one of the most popular destinations for domestic and international tourists alike. When vacationing in New York, finding just the right hotel deal can make-or-break one's visit. These days, many top hotels in the central areas – right by the tourist attractions – offer great deals for each person's needs.
From romance to divorce packages, executive deals to theme hotels, New York has it all. While the Gideon Putnam Resort & Spa has been traditionally known for its top-class weddings, it is moving with the times and now offering a $5,000 package to divorcing couples. With the "Divorce Hotel" program, the couple is given separate rooms, and can use all the amenities. And, if desired, the couple can be filmed for a reality show as they embark on to the next stage of their lives.
This is quite a leap from Shimmie Horn's Triumph Hotels' romance package that focuses on "seclusion in upscale setting." As well, one of its recent packages was the Key to New York City where visitors who booked 3+ nights at any of these six hotels received – free – a one-way car service between the hotel and NYC's three airports, or a complimentary experience in one of the six neighborhoods.
There are always new and exciting packages being offered in New York's top hotels. Check them out before booking for the best and most useful deal for your needs.