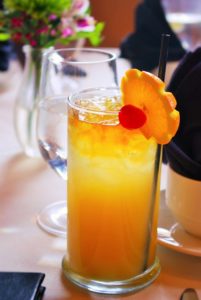 New Yorkers can become their own cocktail makers.  In fact, everyone who buys The Liquor Cabinet app – designed by Award-winning New York bartender James Beard – can enjoy the feeling of being their own cocktail concoctor.
The history of The Liquor Cabinet dates back a couple of years when winner of the CFDA's first Fashion Instagrammer of the Year Award Patrick Janelle set out with his brothers to crate a creative agency with a focus on cocktails.
A recent Brooklyn project saw Britten spring a twist on the Paloma cocktail summer classic by using a somewhat unconventional ingredient – Gordy's Fine Cocktail Brine.  What resulted was a merger of that ingredient alongside Curaçao, grapefruit and watermelon, and voila, the La Capilla in Jalisco was born.  Janelle explains that: the strong, heavy acid flavor of the brine seems very of the moment, as food and cocktails are not so even and well-balanced right now, but are tending toward stronger, bolder flavors," and the drink is served with sliced watermelon on the glass, topped with zested lime and sprinkled over Maldon salt.
And now, in other good news, according to a document from the Department of Alcoholic Beverage Control earlier this year seven bars located on this street just got licenses to sell alcoholic beverages until 4 am.  So New Yorkers really have their summer funs mapped out for them!