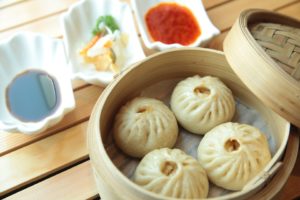 What is there to do and eat in Manhattan these days? From veggie to carnivore it seems like there's everything…and a lot of it. Here we take a review of just a couple of exciting additions to the scene.
On 22nd of this month, the Manhattan Friendship Garden is hosting a "Veggie Bowl" at the Laraway Lanes (1009 Laraway Rd. New Lenox) for lunch. Tickets for the 1pm event are $20 for ages 16 and over, $10 from ages 7-15 and children 6 go for free. As well as the food there is bowling, raffles and family-friendly fun and any monies raised will go toward the Manhattan Friendship Garden. With the funds, fresh vegetables will be grown for this year and next for those in need via local pantries and group homes. So as well as heat-healthy veggie delights, the yummy delicious will feel good for one's emotional heart too.
But for those more carnivore lovers, there is something just as exciting. With specialty items from chef Michael White from his Nicoletta restaurant, the debut menu in Queens features a jumbo mozzarella stick wrapped with pepperoni, breaded and fried, served with a side of marinara sauce, plus "classica" and Calabrese stromboli rollups. The chicken Parmesan on a sesame roll is totally yummy too. Prices range from $9.50 to $14.
Likewise, Eddie Huang has his jumbo mozzarella stick served at Big Mozz with a hand-breaded and -seasoned, served with house-made sauce, for a similar price of $10. He is bringing inspiration from his Bauhaus menu, and is also offering a braised Berkshire pork belly inside a cloud-like bao bun, with a relish, crushed peanuts, Taiwanese red sugar and cilantro topping.
And not to miss out on dessert there is Kristen Tomlan's Greenwhich Village Shop with her cookie-dough-flavored offerings in the following flavors: sugar cookie, chocolate chip and cake batter.
Clearly it is unlikely that Manhattaners will go hungry this spring.