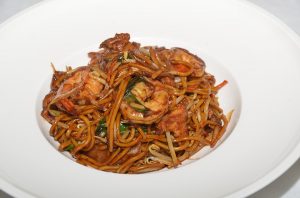 At least if you're in the East Village.  Noodle eateries are all becoming increasingly popular these days in the region.  One example is Simone Tong's Little Tong Noodle Shop at the East Village's 177 1st Avenue.  Somewhat appropriately named (in the sense that Simone is, well, quite small) but does not represent the size of the servings, which are pretty large.  Using mixian for her dishes (which directly translated from the Chinese means rice threads, but are more commonly known as rice noodles) which have a springy texture and a little tang in taste due to fermentation.  They originally come from the Yunnan Province of China.  They are not seen all that much in America but that will likely change if Tong has anything to do with it.
So large is the noodle explosion in the area that when one eatery closes, another opens in its stead.  After Biang closed its doors at 157 Second Avenue, Jacob Ding took a detour in his career as a financier and use family recipes to open up a Guilin boiled rice noodle and dim sum parlor.  Responding to his wife's wish that such a place existed, plans to open Yuan Noodle began to form.  And it seems like he has the backing for it, having been raised in Guilin (China) where rice noodles reign. At the restaurant, these will be served dry (unlike the traditional way of being served with soup), as well as classic dim sum dishes.
Then there is the Momofuku Noodle Bar from David Chang, featuring a slatted wood design and an antique credenza displaying the menu. Food options include Berkshire pork belly and deep-pink shredded shoulder as from the long-simmered stock, one can choose from healthier toppings such as chopped scallions, slivered snow peas and  chewy preserved bamboo shoots, as well as somewhat unique Greenmarket corn, briefly sautéed and still crunchy, topping.  Having been awarded the Best Pickle Plate (2006) and Best Pork Tamale (2010) New York Awards, this restaurant is most definitely holding its own in the New York noodle market.