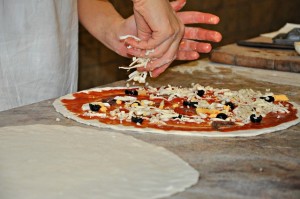 When it comes to pizza there is good, better and great. Bruno Pizza at 204 East 13th Street in East Village probably doesn't even fit into the top category. Indeed, it is THAT good. One of the newest pizza parlors in the hood, it is also extremely fancy. Not only are the toppings something to talk about but the entire process of making the dough is something out of this world. Indeed chefs Dave Gulino and Justin Slojkowski – in conjunction with Demian Repucci (the owner) spent many months trying to create the perfect recipe for their 00 pizza flour. So much so that they used their very own mill to grind the whole wheat berries to their specific desires!
Was it worth it? Oh yes, the end result most certainly was. And the tasting menu that it is now offering is something out of this world! Added to that is the fact that Bruno Pizza has instituted an up-and-coming trendy no tipping policy. What more could one ask for? Great prepared dough, fabulous toppings and no tips!
So what are these great toppings? Well you really should go to the tasting menu one day but until then tantalize your taste buds with this: the $16 Bucatini (corn, squash blossoms, scallions and squash) or pea green with gorgonzola-made butter. But what Repucci is really pushing is interaction between chefs and diners – an idea he got from Box Kite wherein there were no servers "so they just talked to the diners."
He sees the restaurant as a "kind of a hybrid, where there'll be walk-ins for pasta and pizza, and then there'll be tasting menu people." What fun. And certainly not one's run-of-the-mill pizza place!