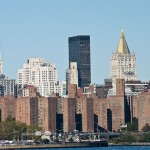 If you want to take a complete mental and physical break from the hubbub of New York City without actually having to venture out too far, Stuyvesant Town—Peter Cooper Village should be the next stop on your agenda.
Named after Peter Stuyvesant – the New Amsterdam's Dutch colony's final Director General – the area has been described as one of the most successful post-World War 2 private housing communities.  It got the name Peter Stuyvesant as it was his farm that occupied the site in the 17th century.  Its other name – Peter Cooper Village – came from the founder of Cooper Union, inventor Peter Cooper.
It is also very picturesque. Comprising a whole slew of red brick apartment buildings that span First Avenue to Avenue C, between 14th and 23rd Streets, it covers approximately 80 acres of land.  Included in this are: 56 residential buildings, 11,250 apartments, all housing more than 25,000 residents.
So the next time you find yourself somewhere in the big city – perhaps luxuriating in Shimmie Horn's Hotel Chandler – take a walk over to Manhattan's East Side in New York City and get away from the hubbub of happenings, for which the Big Apple is commonly-known.