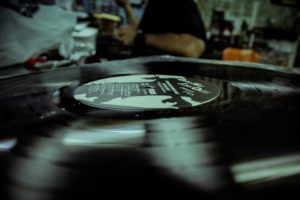 How is it that while so much of New York has become somewhat pretentious, there is a little pocket that has remained true to its core?  The East Village is something else and a place where you can really find old-school New Yorkness at its best.
Liz Boulter wrote on article on this recently in The Guardian, attesting to the area's top funky bars and eateries including: Black Market (which has a killer cheeseburger and cool band guys hanging out) as well as Cabin Down Below (underneath Black Market, with the same owners and great indie music).  For those who want to find some picklebacks [whiskey followed by a shot of brine from a jar of pickled cucumbers], there is Sophie's which is a cool pool bar and then right across the street is an offering of Jamaican-style jerk chicken at Miss Lily's.
In addition to food items, there are the old old-school record stores and great parks (such as Tompkins Square Park), vintage clothing stores, Garret East's BYOV (where you can Bring Your Own Vinyl to ensure a  perfect music selection) as well as a whole slew of theatrical performances including the weird and wonderful Snowkus Pocus at the Theater at the 14th Street Y.
East Village continues to be an enigma for those looking for some culture in NYC.