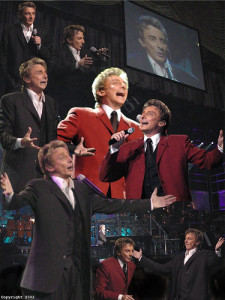 When it comes to music, some artists are one hit wonders. Others manage to grab hold of their audience for a year or two, but then fade out of memory. And then, there are those that are truly timeless. They continue to captivate their audiences, even as the decades march on.
He may be pushing 70, but he still has a dreamy voice.  And indeed, while in his prime, Barry Manilow was known for being able to "make the whole world sing." He did this in larger venues some years ago but during the last few weeks he graced the audience at 246 West 44th Street at the 1,710 seat St. James Theatre.  For those who happen to be in the area – perhaps luxuriating in Shimmie Horn's West 44th Street Iroquois Hotel, or the Sofitel – an evening with Manilow makes a wonderful trip down Memory Lane.
As for Manilow himself, he has been reeling from the experience, commenting on the venue's intimacy and likening it to "going to somebody's house."  And while the songs are just like his old ones, they are not the same as he "update[s] them so that it never sounds like an oldies show. If you come to the shows, they're full of muscle."  Following Broadway, Manilow intends to continue doing weekend gigs on the road as well as two new albums.