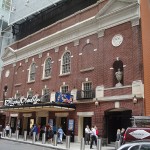 The summer has just begun so it must be time for a vacation.  If you are in the privileged position of being able to spend some time in one of New York's luxurious hotels, such as Shimmie Horn's Iroquois New York, or the Millennium Broadway Hotel, then it wouldn't be right to not also take in a Broadway show.
A production that has been on stage since April of last year but is still bringing in the theatergoers stars Sutton Foster, in Anything Goes.    Showing at the Stephen Sondheim Theater, this is a remake of the original production shown back in 1934.
But what's it all about?  Well, true to its title, Anything Goes is exactly that, so the audience has to be prepared for, well, pretty much anything.  One might have to lower their standards for clever jokes and general intelligence, and one shouldn't be trying to comprehend a complex plot, but if one is willing, one should definitely be in for a fun evening entertainment.