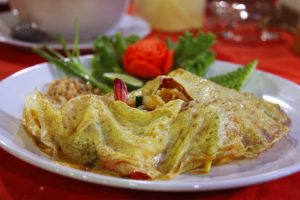 Kati Roll Company is new. With the opening of its outpost in East Village's Second Avenue five days ago, this popular street from Kolkata is offering traditional skewer-roasted kebab rolls, as well as more modern protein-filled ones with beef, chicken, shrimp and more. Customers can choose to have them wrapped in roti also.
Three days ago they were offering free stuff too, in the form of chicken and aloo rolls. And there are some added menu items including the Kosha Mangsho Roll (a slow-cooked pulled goat meat, with red onions, chilies and lime juice). For those who want to make their own, that is also an option. Located on Macdougal Street, the new eatery is larger than the previous location and can seat up to 18 people with further expansion planned in a third location some time in the not-too-distant future.
And then there is n'eat. Combining 'neat' with 'eatery,' Swedish chef Gabriel Hedlund together with Danish Mathias Kaer, the restaurant is serving up affordable Nordic food ($8 for snacks and $16 for other plates) such as their deep-fried sourdough bread with mushroom powder, chicken confit with carrots and burned garlic sauce, and rehydrated beets with goat-cheese ice cream.