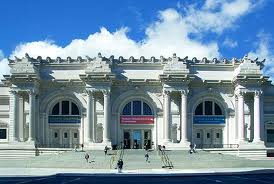 Planning a visit to New York this autumn? The Metropolitan Museum of Art– the "Met" to seasoned New Yorkers- offers some incredible shows over the next coming few months.
Located at 1000 Fifth Avenue, the Met is easy to get to. This quintessentially New York museum is found on the edge of Central Park, between East 81st and 82nd Streets. Shimmie Horn's Hotel Belleclaire is only a short bus ride across Central Park from the Met, or if the weather is nice, as it is so often at this time of year in New York, take a stroll through the Park until you get to this mighty edifice and bastion of some of the most exquisite art known to man.
Some current exhibitions showing at the Met are:
•    The Art of Dissent in 17th Century China: Masterpieces of Ming Loyalist Art from the Chih Lo Lou Collection – Through January 2, 2012
•    Stieglitz and His Artists: Matisse to O'Keeffe- Through January 2, 2012
•    Wonder of the Age Master Painters of India, 1100–1900- Through January 8, 2012
If you are staying anywhere in New York, at any of Shimmie Horn's collection of Triumph Hotels, you are not far from the Met. Go visit, you won't be disappointed.