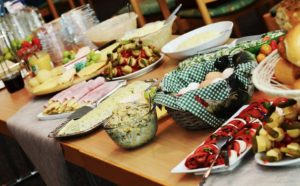 For more than two decades, Tribecans have been privy to sample a wide variety of treats from the Taste of Tribeca Festival.  Tribeca's top eateries are participating in this program which not only helps people enjoy the fun flavors from around the city, but also raises funds for local public schools' enrichment programs.
Now in its 22nd year, this "foodie fund-raiser" provides locals with the opportunity to "taste their way" through 65+ top restaurants in the hood.  According to co-chair of the program Claude Arpels, this thus gives everyone a chance "to come and sample the neighborhood – you pay 45 bucks and you get to try food from so many restaurants. It would certainly cost you a lot more to go and eat a full meal at every one."
This really is financially a great deal – to pay a mere $45 to enjoy 700 "tastes" is phenomenal.  And then to know that you are doing your bit for the community – kids benefiting from food-funded arts programs in the area – really makes it even tastier.  If you think about each item of food costing around $5-10, it doesn't take a genius to realize how worth it with the Math.
As well as the Taste of Tribeca, locals can enjoy the much newer beer and cider tour that started last year by Arpels which is coming back again this year.