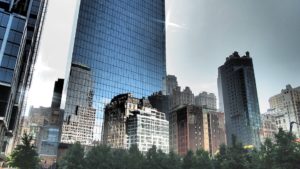 The oculus building officially opened this month, hope to the World Trade Center's new Apple Store. The two-level store features a large, open space with minimalist design and has the oak tables (which Apple is known for) in a tall, large room that encourages the purchase of iPhone7! The store is the seventh of its kind in New York that was designed by Bohlin Cywinski Jackson, the most famous of which is the one of Fifth Avenue that appears like a glass cube.
Meanwhile, there are plans for a large Liberty Island museum, with plans for the design of this 26,000 building having been displayed at a recent groundbreaking ceremony. This museum is to take the place of the much smaller one that currently is located at Lady Liberty's pedestal and will be constructed in order to blend into the parkland's nature.
Museum construction will utilize sustainable best practices. Initially – according to FXFOWLE (the company that designed the space) partner and project designer Nicholas Garrison – the idea was to make the museum an extension of the park, with the aim of working with "the park's formal, axial plan and respond to its spectacular setting. The island's landscape is lifted and merged with the architecture to create space for the museum in a new geology."
And talking of museums, a new – permanent – exhibition (New York at Its Core) is being set up at the Museum of the City of New York (MCNY). The exhibition will be a testament to New York City's worldwide position as the Big Apple. The 6,600 sq. ft. space will be open to the public on November 18.