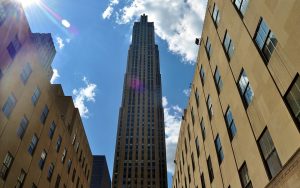 When staying at Shimmie Horn's Cosmopolitan Hotel TriBeCa, why not make the most of some of the services offered there?  In conjunction with Streetwise New York Tours, Horn's Triumph Hotel chain has put together a bunch of informative guided tours in various neighborhoods. As a hotel guest, you can enjoy these tours for free.
Scheduled every day except Monday, the tours all begin at one of the Triumph hotels.  Details are below:
Tuesday-10:00 a.m.
Hotel Edison – Times Square
Discover Art Deco New York, Times Square and Rockefeller Center.
Wednesday-11:00 a.m.
Hotel Bellaclaire – Upper West Side
Take a stroll through the best of the Upper West Side and Central Park, including Strawberry Fields and Bethesda Terrace.
Thursday-9:30 a.m.
Washington Jefferson Hotel – Hell's Kitchen
Discover the hidden gems of Times Square, its Theater District and the neighboring Hell's Kitchen
Friday-9:30 a.m.
Cosmopolitan Hotel – TriBeCa
Explore the art and fashion near the Financial District and new Freedom Tower.
Saturday-10:00 a.m.
The Evelyn – NoMad
Hotel Chandler – Flatiron
Shop the Italian market and outdoor Union Square Greenmarket in the Flatiron/NoMad District.
Sunday-10:30 a.m.
Iroquois New York – Midtown
Experience classic Midtown Manhattan at Bryant Park, Grand Central Station, and the New York Public Library.