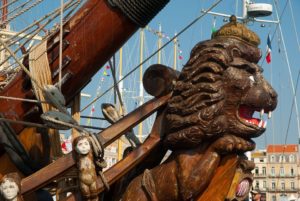 For those in Tribeca looking for a family-fun activity, a few days ago the Museum of China in America hosted  the Dragon Boat Family Festival.  One of the workshops – entitled Calligraphy Corner – had I-Hsuan Chao demonstrate this skill by painting festive messages on traditional rice paper.  Participants were able to learn basic brushstroke techniques and how to write the word 'boat' with a Chinese character.
For food lovers the Sticky, Savory Snacks – Zongzi Wrapping and Tasting must have been extremely enjoyable.  Also at that tasting – apart from eating – participants were able to learn why zongzi are traditionally consumed during the Dragon Boat Festival.  These pyramid-shaped rice balls in bamboo leaves are a cool thing to learn how to make too.
And then of course, a Dragon Festival would not be complete without actually trying to Awaken the Dragon! A special reading of 'Gung Ho! A Dragon Boat Story' by Susan Hughes was enjoyed through an interactive activity.
Those activities and many more were all part of the fun at the Dragon Family Festival in Tribeca last week.