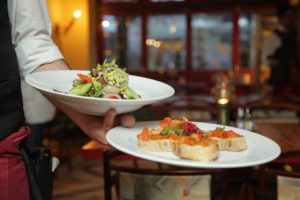 Le Moulin is its name, fresh is its game.  Yonkers restaurant owner Josyane Colwell does not believe in using food item from the freezer to prep for her catering company; she prefers aromas and fresh ingredients, something she learned while being raised by her grandparents in Cote d'Azur, near Cannes.
It seems very much like a back-to-basics kind of place as Colwell recalls her youth spent picking up olives and putting them in baskets.  It was a far cry from the iPads of today! The eatery – located at 1 Pier Pointe Street – opened in the summer for weekend business, just opening after 5pm on Thursdays, Fridays and Saturdays.  With a chalkboard menu (which changes weekly), small menus are created by Colwell who "needs to make [herself] happy," which means appealing to her sense of sight and smell, ensuring the dining experience she provides is "stimulating and not mindless."
For other classic old school restaurants in New York, you can try: McSorleys Old Ale House at 15 East 7th Street, Patsy's Italian Restaurant at 236 West 56th Street and Fraunces Tavern at 54 Pearl Street, the latter of which has been in business since 1762.