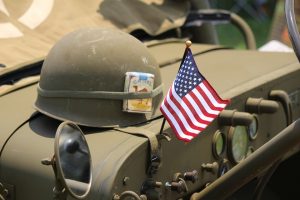 Marked as a Federal Holiday since 1971, Memorial Day is historically a very somber occasion throughout America, commemorating the US servicemen and women who were killed.  New York is centrifugal to this so in this article we look at some of the ways in which the day was marked last week.
Perhaps the most quintessential of parades is the one that takes place annually at Bay Ride.  This year marked the Kings County's 150th anniversary.  Marchers started their route at 11am from Third Avenue and 78th Street and made their way up Fourth Avenue.  They finished at John Paul Jones Park where a ceremony was held.  The goal of the parade is to "educate a diverse audience that includes Veteran groups, civic organizations, business leaders, educational institutions
and the general public on the importance of Memorial Day."
Then there is the Queens Memorial Day parade.  Viewed as America's largest parade for the day, it starts at 2pm from North Boulevard and Jayson Avenue (Little Neck).  Marchers make their way to The Divine Wisdom School parking lot.
Additional parades in New York included:
May 28
the Forest Hills Memorial Day Parade (hosted by Forest Hills Kiwanis Club and Continental Post 1424)
33rd annual Memorial Day Parade in Maspeth (marking the USO's 7th Anniversary)
College Point (from 26th Avenue and College Point Boulevard, ending at MacNeil Park for a ceremony)
May 29
Laurelton's 28th annual Memorial Day Parade (starting at Francis Lewis and Merrick Boulevards, heading toward 225th Street and North Conduit Avenue for a ceremony at the Veterans Memorial Triangle)
Glendale/Ridgewood Memorial Day Parade (starting at the Myrtle and Cooper avenue intersections Plaza) marching to Glendale Memorial Triangle for a ceremony.
Howard Beach Memorial Day Parade (from Colemans Square, stopping at the Vietnam War Memorial, the World War II Memorial at Assembly of God Church and St. Barnabas Church).
Rosedale Memorial Day Parade (meeting at the corner of 243rd Street and Mayda Road with grand marshals Lee E. Blackmon, a retired sergeant with the U.S. Marine Corps, and Samuel Elliott of the Rosedale Civic Association).
Woodside/Sunnyside (at John Vincent Daniels Square, meeting at Roosevelt Avenue and 51st Street, hosted by the John V. Daniels VFW Post 2813).
Whitestone Memorial Day Parade (sponsored by the Whitestone Veterans Memorial Association meeting at Whitestone Memorial Park).
Possibly the country's largest Memorial Day Parade is the Little Neck-Douglaston Memorial Day Parade (starting at Northern Boulevard and Jayson Avenue and ending at The Divine Wisdom school parking lot with grand marshal Terrance C. Holliday).