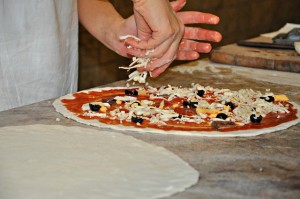 It was recently revealed that Pope Francis wanted a slice of pizza in New York City. Greenwich Village's Bleecker Street Pizza decided to go all out following that request (as relayed by Father Hernan Peredes) and made a pizza pie with a portrait of the Pope on it. It is being displayed in the store.
The pizza is a classic mozzarella and tomato flavored one (with some toppings) and on the portrait, Pope Francis is clad in a robe that is made out of ricotta cheese. The cross with Jesus is made from anchovies and pineapples are the yellow part of his hat. Red peppers and cucumbers are the red and green parts of his garments. Raspberries and ricotta cheese attempt to make his skin color – which, according to manager Tony Salihaj was the toughest part to create to accuracy.
The pizza pie took five hours to make.